Our first meeting is free of charge and without obligation.
If you think that I am the best person to carry out your wedding ceremony, you can choose between these 3 options.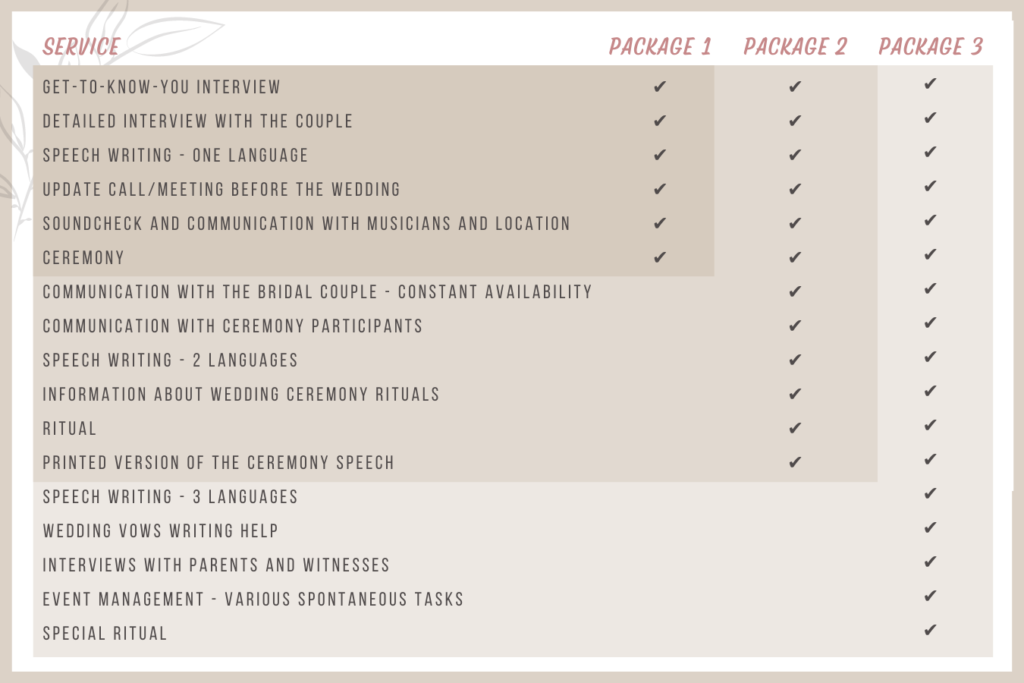 Package 1: 1300 euros
Package 2: 1550 euros
Package 3: 1950 euros
(Installment payment possible)
Travel expenses (including transportation and, if necessary, overnight accommodations): to be discussed and agreed upon
First meeting: This meeting is free of charge and without obligation for us to get to know each other better, allowing you to decide on me as the best person to carry out your wedding ceremony.
Detailed interview with the couple: I conduct an initial interview with the couple, a second interview with the bride and another with the groom. This allows you to express your love and affection for one another and for the integration of your thoughts and words into the script for your ceremony. You should plan about 3 hours for the interviews. Depending on where you live, our interview takes place in person or via Zoom.
Update call/meeting a few days before the wedding: A few days before the wedding, we review and confirm the different stages of the ceremony by phone or in person.
Soundcheck and communication – location and musicians: For organisational reasons, I contact the location to better understand where the ceremony will take place. If you have planned music for the ceremony, I contact the musicians to confirm when and which songs are played.
Communication with the bridal couple – Constant availability: you can always write to me, call me and ask me questions and I will answer your questions as soon as possible.
Communication with ceremony participants: Parents, family members and/or friends often want to say a few words during the ceremony. I contact them and together we agree on the timings of their speeches.
Speech writing – 2 languages: The speech will be written in two languages.
Information about standard wedding ceremony rituals: I will inform you about the different types of rituals: ribbon, sand, wine ritual and I will carry out one.
Printed version of the ceremony speech: You will receive one printed copy version of your speech.
Speech writing – 3 languages: it is possible that some international guests do not understand the two languages spoken by the couple. Some parts of the speech may be written in English/French/Spanish/German to include all guests.
Writing tips – wedding vows: it is sometimes difficult to express one's feelings and formulate them in a short speech. I will help you to structure your wedding vows.
Interviews with parents, relatives and witnesses: For a more detailed picture of your life and history, it is possible to interview relatives, friends, family and/or witnesses to collate anecdotes and special moments with your loved ones for you to experience a beautifully evocative ceremony.
Event management – various spontaneous tasks: On an emotional day, some things may slip your mind but I am there to assist in picking up the wedding rings, managing delays and their implications, modifying and translating speeches for the ceremony participants and whatever else you may require.
Carrying out special rituals: Are there any traditional or personal rituals that you wish to carry out that require special effort or attention? I will research and carry them out in accordance with your requests.